Virtual Invasive Plant Symposium, November 3, 2022 - QRWA is a supporting partner for the 2022 CIWPG symposium!
The Connecticut Invasive Plant Working Group's 2022 symposium Strategies for Managing Invasive Plants: Assess, Remove, Replace, and Restore takes the form of a full-day webcast, open to all; Thursday, November 3, 2022 (with recordings of sessions available to registered attendee's post-symposium). Sessions include a variety of techniques for management of terrestrial and aquatic invasives, as well as restoration with native alternatives. CEU's for organizations and Pesticide Recertification Credits are available. Registration $50 on or before October 7; $65 after Oct. 7; $25 Students. Click here for PDF with program information.
Meriden NRI
QRWA president David James and QRWA member/volunteer Emily Picard have volunteered their time to participate on a panel for "Meriden Resources Inventory" (NRI) The purpose of NRI is to compile and describe important, naturally occurring resources within Meriden's town limits. It will support efforts to protect, restore, and enhance the environment as well as promoting greater appreciation and enjoyment of nature. To find out more information about NRI and how you may participate please visit the website at
https://meridennri.wixsite.com/meridennri
The Quinnipiac River Canoeable Trail is back better than ever! Visit the site at www.qrivertrail.org/
River Gage
Click here for a real time USGS water level gage of the river in Wallingford, Connecticut.
Click here for a water level gage of the river in Southington, Connecticut.
New England Hydropower Corporation Donates $1000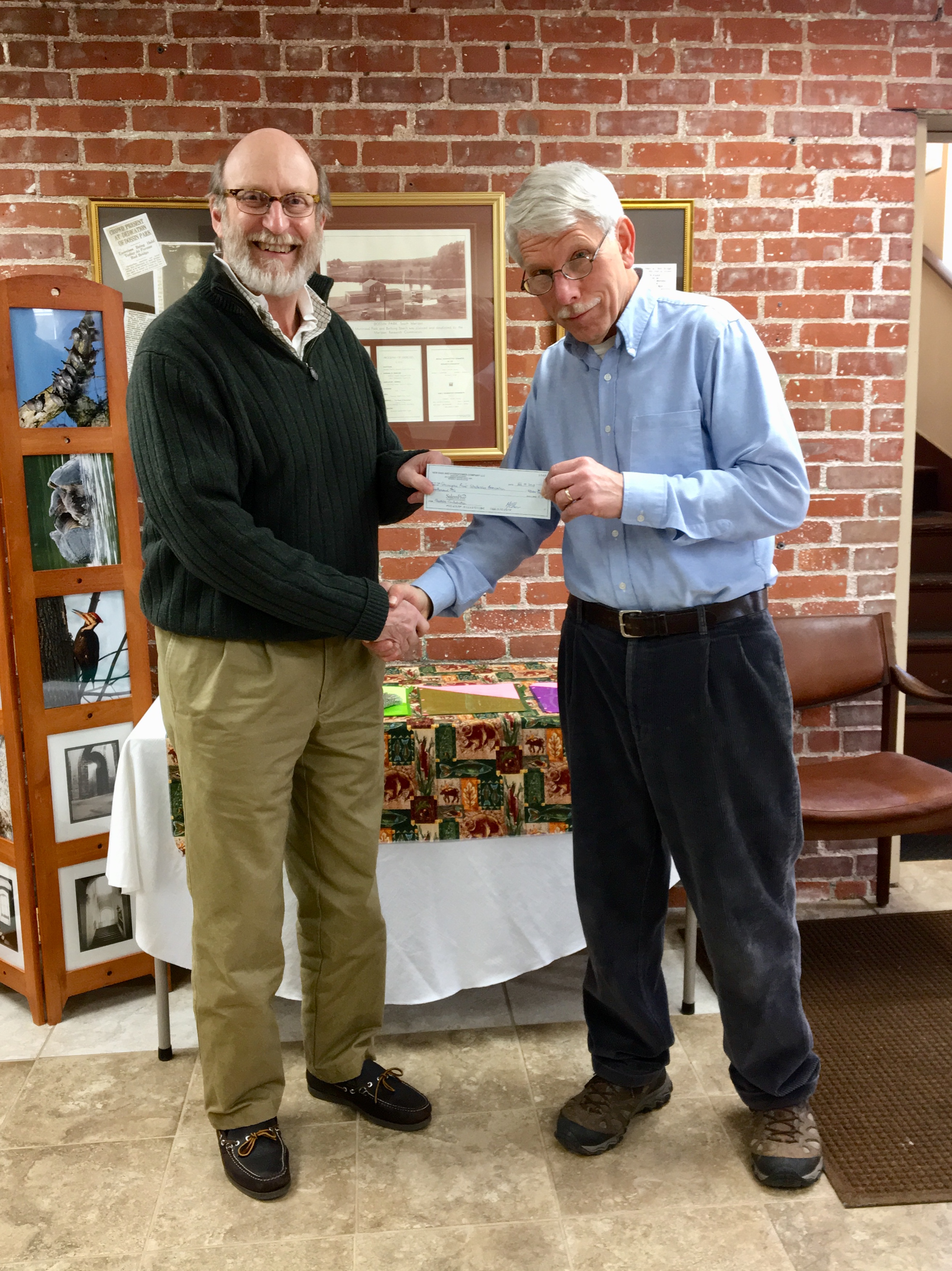 On March 23rd, Chris Conover, New England Hydropower Corporation Chief Marketing Officer presented a check in the amount of $1000 to QRWA President, David James to be used towards environmental education and general fund purposes.
New England Hydropower Corporation (NEHC) are the builder and operator of the Archimedes screw, water turbine on Hanover Pond in Meriden. Community involvement are part of both organizations mission.
The Quinnipiac River Watershed Association was awarded a $48,000 Aquatic Science Education Grant by 3M Corporation on Monday, March 21, 2016.
We are equally proud to include 2 classes of Wallingford's Lyman Hall students to this year's field trip program. Students will learn how to collect and ID macro invertebrates, conduct water quality experiments, and release trout they raised in the classroom. At the end of the day QRWA volunteers will give the students an introduction to kayaking where they will test their skills on Hanover Pond. The 3M/QRWA/Environmental Education programs have also made the Trout in the Classroom (TIC) and Personalize Learning Experience (PLE) programs available to students at Meriden's Maloney and Platt High Schools. Summer program to include Solar Youth of New Haven's after school and summer camp students.