QRWA Related News
A New Home for Bats Welcome to the Watershed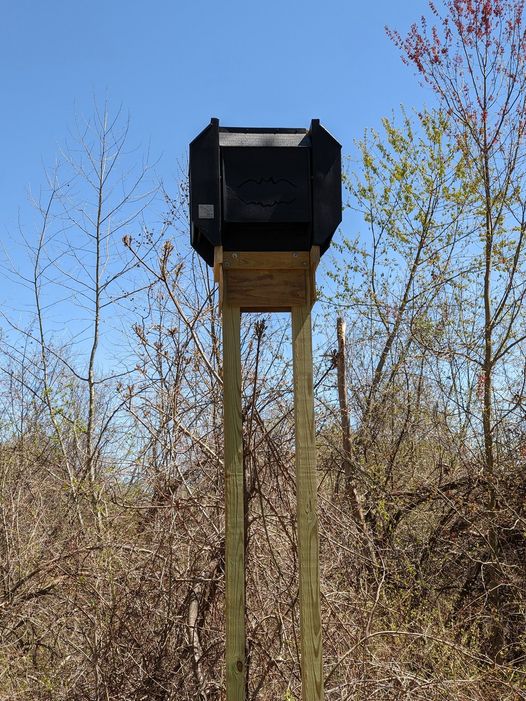 In its ongoing efforts to restore the watershed to ecological balance, the QRWA found an ally in Platt High School's CT Climate Action Club to provide much needed habitat for Connecticut's stressed bat population.
In recent years the numbers of these ecologically important and beneficial creatures have diminished due to habitat destruction and the ravages of white nose syndrome.
A collaborative effort "To the Bat Cave, Students" was speared-headed and managed by students who enlisted the collaboration of experts from the ecological community, the CT DEEP, the Meriden Parks and Recreation Department as well as QRWA and several of its members. Students also raised all the funds for the project through Donor's Choose – within a week!
The result, after a year much effort and many challenges, is a bat house standing tall along the Quinnipiac River Dossin Beach that can potentially house nearly a thousand bats.
Bats are among the most beneficial and misunderstood animals on earth. More than 500 species of crop plants and 530 kinds of flowers rely on bats for insect control, seed dispersal and/or pollination. In the U.S. alone, farmers save an estimated 50 billion dollars a year in agricultural pest control provided by insectivorous bats, including those that call Connecticut home. Each year, on warm nights, our neighborhood bats consume billions of insects that can carry diseases such as West Nile Virus and Malaria and those that destroy crops in farms and backyard gardens.
Unfortunately, due to many factors such as habitat loss, pesticide use, climate change and a devastating fungal disease, white nose syndrome, the number of North American bats is in steep decline.
The Platt Students recognized the importance of restoring the dwindling bat population and that the erection of a bat house where bats can roost and give birth to their tiny pups could make a significant difference. Inspired by the vision of bat conservationist Maureen Heidtmann, the students and their instructor, Zachary Corey, eagerly rose to the challenge. After a great deal of perseverance and hard work by the students and a crew of innovative, environmentally savvy volunteers, the project is now complete, looking great, and ready to welcome Meriden's beneficial bats.
John Kretock
dedicated to the Quinnipiac River cleanup efforts for most of his life left us this past June. His countless efforts to remove debris from the river year after year after year without seeking recognition or fame was a true friend of the QRWA volunteers and the river. We will be forever grateful to this quiet, gentle man who's love for making the environment and the river a place for all to enjoy will remain a constant reminder of those efforts. The link to a video he made says it all...
https://youtu.be/704zp0z_YyE
Walter Hylwa founder of the Quinnipiac River Watershed Association passed away on Friday, July 5, 2019.
Among his many affiliations, he was President of the Connecticut Wildlife Federation, Board Member of the National Wildlife Federation, President of the Connecticut Conservation Association and served on many local committees including the Conservation Commission and Flood Control Implementation Agency. He was also a founding member of the Meriden Rod and Gun Club.

A Funeral Service will be held on Tuesday, July 9 at 10 a.m. at the chapel at Walnut Grove Cemetery, 817 Old Colony Road, Meriden, Conn., followed by a burial. Friends and family are invited to attend. Funeral arrangements are under the direction of the John J. Ferry & Sons Funeral Home, 88 E. Main St. Meriden, CT 06450.

In lieu of flowers, donations to the Quinnipiac River Watershed Association, 540 Oregon Road, Meriden, CT 06451, may be made in his honor.

"Radiant Acts Award" August 24, 2018
"Spirit of Meriden Award" September 4th, 2018
"Community Support Award" from Meriden Board of Education on September 19th, 2017
click here
for video from BOE September meeting
The QRWA was the recipient of donations from the Hunters Game Dinner which took place on March 22, 2014. Photos show the display canoe made specially for the event by John Gopian of Hunters. It was a grand idea and served as the raw bar for the event. President Dan Pellitier thanked Hunters at the banquet, In addition, Board Members, Ginny Chirsky, Roger Kemp, David James, Mike Mordarski, Martin Horsky, Peter Picone and Anna Neumon were at the event.


Draft of Tech Memo #2 prepared by Fuss and O'Neill for the Quinnipiac Watershed Base Plan click here for link to draft. FINAL Stakeholder meeting scheduled for November 6th, 2013 at 3:30 at the QRWA headquarters
Scroll down for Record Journal Articles
QRWA featured in May 2013 issue of New Haven Magazine.
River clean up 2012 Record Journal along 5 mile course from Southington to Meriden.
Mike Roberts on a bit of Q River history and canoe race over the past 30 years, click here
The real story why QRWA does not remove Downed Trees from the river.
Watershed Related Articles
Tuesday, September 4, 2018
Award presented to QRWA volunteers by Mayor Scarpetti of Meriden.
Friday, August 24, 2018
Tuesday, September 19, 2017
See video above
Print Media
Monday, April 24, 2017
The first in a series of 2017 student field trips to the QRWA. Both elementary and high school students will experience hands on environmental education programs made possible by a grant from 3M and QRWA/member volunteers.
Monday, March 21, 2016
Thursday, October 7, 2004
Success Stories & Advocacy Statements
Sunday, August 29, 1999
Friday, April 2, 1999
Monday, August 3, 1998
---
RSS Feed

|

|

Share