Advocacy
The Quinnipiac Watershed Base Program
Final Stakeholder meeting to review the draft of Tech Memo #2 prepared by Fuss and O'Neill will be held November 6th from 3:30 to 5:00 p.m. at the QRWA headquarters, 540 Oregon Road, Meriden, CT and a public meeting to review final draft of the watershed plan will be held on December 4th from 6:30 to 8:00 p.m. at the QRWA headquarters. For a copy of the draft click here
There will be 2 public meetings in 2013 and we request your participation in the development of the Quinnipiac River Watershed Base Plan Revision and Update. This project is being led by the Quinnipiac River Watershed Association (QRWA) and Fuss & O'Neill, Inc., working with the Connecticut Department of Energy and Environmental Protection (DEEP) and the U.S. Environmental Protection Agency (EPA). The revised watershed base plan will be a comprehensive, scientifically-sound and practical planning document that addresses water quality and related issues within the Quinnipiac River watershed.
The primary objectives of the project are to develop a revised watershed base plan that:
• Characterizes existing river and watershed conditions by incorporating data and information that has become available since the original 2004 Quinnipiac Watershed Management Plan;
• Identifies and assesses current water quality problems and issues in the watershed;
• Fosters regional land and water solutions;
• Integrates water quality, stream flow, aquatic and riparian habitat, and land use needs;
• Provides guidance for local land use decision–makers to address stormwater and non-point sources of pollution with a focus on sustainable development practices;
• Prioritizes water bodies and implementation projects to reduce pollutant loads in the watershed and ultimately improve water quality in the Quinnipiac River.
The plan will contain the nine watershed management planning elements required by EPA and DEEP for future funding of plan recommendations through the 319 Non-point Source Pollution and similar state and federal grant programs.
The current Steering Committee includes representatives from DEEP, EPA, Fuss & O'Neill and QRWA, and the Stakeholder Committee formed in the fall of 2012 includes municipal representatives from the watershed communities, government organizations, educational institutions, non-profit organizations, and others who live and work within the watershed.
The Stakeholder Committee members will advise the Steering Committee on how to achieve water quality improvement goals with respect to on-going municipal, business and development interests in the Quinnipiac River watershed, which is an approximately 166 square-mile area that includes portions of 18 municipalities and is home to over 200,000 people (see enclosed map).
Stakeholder Committee members have been participating in workshop meetings during the project, as well as reviewed and provided comments on draft deliverables at key stages in the plan revision process. Stakeholder Committee members will be available to attend the two workshop meetings to be scheduled between Fall 2012 and Spring 2013.
For more information email or call the QRWA office. Public Meetings will be posted on this web site and in local newspapers, social media and to QRWA members. qrwainfo@att.net or call 203-237-2237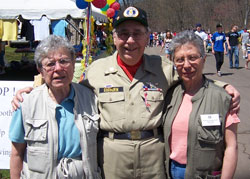 Participation at Meriden's Annual Daffodil Festival 2009 - Shared Booth with Meriden Land Trust and Meriden Conservation Commission. Handed out over 200 shopping bags and signed up over 200 Friends of the River!

Photo to the right: QRWA members Anna Neumon, and Bill Godburn take a moment to pose for photo with QRWA president Ginny Chirsky.

|

|

Share